Video Marketing For Awareness & Engagement
Drive Sales & Customer Actions With Our Video Marketing Services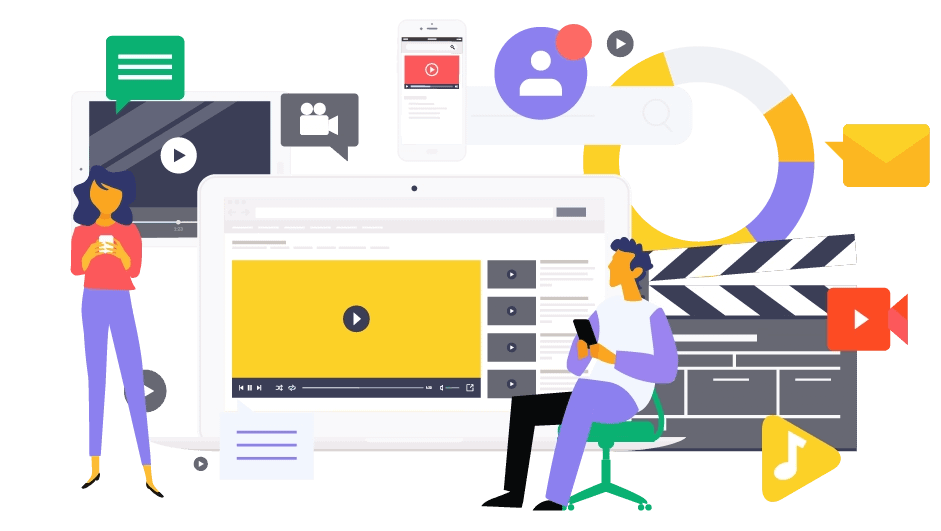 Video marketing uses video to spread awareness, engage customers, and boost sales. It is a senior component of digital marketing, and intersects with content marketing. Video is a great medium for any stage of the marketing funnel. It has also shown that it can out perform static, graphical ads.* 
90% of customers report that product videos help them make purchasing decisions.
Video boosts your rankings on google. In addition, it increases your exposure in search results. The size and contrast of video previews draws the eye. Adding a video easily boosts your organization's click through rates. It ensures your website or landing pages get you more traffic.
Video is a fantastic way to convey emotions and ideas to your prospects. Because of the visual nature of video customers are more likely to remember the information. 
Smart business owners understand that online videos are essential in this digital age. Squirrel Marketing helps your business to develop a loyal customer base as well as reach new customers with great video marketing.
Embedding videos in landing pages can increase conversion rates by 80%.
Squirrel Marketing Will Help You...
Any successful marketing campaign will involve identifying the goals. Video marketing is no different. Your intended out comes will help you determine what type of video to use and where to use it. Squirrel Marketing is here to help you navigate the world of video marketing strategy. 
From idea, to art direction and scripting, to storytelling we want to help your business do the most with your marketing dollars. We help you maintain your brand voice in all your video marketing. In fact, videos can help enhance your brand message and build your reputation and brand authority. 
Humans have a brain wired for stories. Video is a wonderful way to tell your unique story. It's a medium like no other.   Squirrel Marketing is here to help you tap into the amazing power of story and video.
Build YOUR brand's image. Differentiate YOUR brand. Engage with YOUR audience
Get YOUR Website noticed. Increase YOUR traffic. Impact YOUR Sales.
Maximize YOUR online visibility. Increase YOUR leads. Enhance YOUR brand authority
Content that gets YOU noticed. Communicate YOUR "Big Idea". Tell YOUR story.