Website Design Services For More Profits
Discover how our beautiful, effective website services can help you get more customers faster.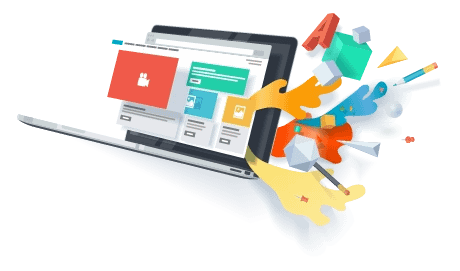 Today, you can't operate a market presence without a website. Furthermore, even if you have accounts on social media sites, you'll still need a professional quality website and website traffic that can be converted into profits. This is especially true if you have an online retail business. Our website services are tailored to help your small business get the most out of your online presence. 
50 milliseconds! That's how long you have to make a good first impression with your site.
Website design is more than great looking graphics and a nice looking site. It involves the right content, the right messaging that gets customers to buy. A professional looking brand image and lead generation properties are also components of a great website. User experience and navigation also contribute to the overall effectiveness of your site. We bring all these elements together to get you the best design service for your business.
And yes, of course, we want your site design to be appealing to buyers as well. Squirrel Marketing & Graphix has years of experience in both content and design. We understand the obstacles of building a site which looks good, but delivers results–without costing you an arm and a leg. It starts with a free online assessment. 
Poor navigation and design leads 37% of users to leave a website.
Our Website Design Services Help You...
As we've shared, Squirrel Marketing has years of experience with designing websites. We want to help you make your site the very best it can be. We offer web hosting, and backend management services as well, so your site always maintains its usefulness. 
A consistent, professional brand image throughout your website will engage customers and can help them trust that you are providing high quality products and services. And the more they recognize your brand the more likely they are to purchase from you.
Your website is your digital storefront. A high-quality website sets the tone, builds trust, and fosters response, which are very important for your reputation. Engage with new prospects and increase your revenue.   
Get YOUR Website noticed. Increase YOUR traffic. Impact YOUR Sales.
Maximize YOUR online visibility. Increase YOUR leads. Enhance YOUR brand authority
Content that gets YOU noticed. Communicate YOUR "Big Idea". Tell YOUR story.
Instill trust from YOUR viewers. Impact YOUR Sales. Tell YOUR story.